The Root Cause of Back Pain: Understanding the Power of Chiropractic BioPhysics®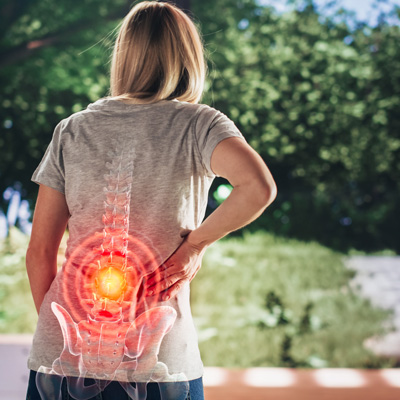 Back pain is a widespread problem that affects people of all ages and backgrounds. According to the American Chiropractic Association, back pain is one of the leading causes of disability worldwide. Many people turn to over-the-counter pain medication, superficial treatments, or even surgery to address their back pain, but these solutions often fail to address the root cause of the problem. Understanding the root cause of back pain is essential to understanding the power of Chiropractic BioPhysics® (CBP), and how this revolutionary treatment can offer truly effective back pain relief.
What causes misalignments?
The spine is a complex structure made up of bones, muscles, ligaments, and nerves. In a healthy spine, these components work together to support the body's weight and allow for movement. However, when the spine becomes misaligned, it can put pressure on the nerves and lead to pain and other symptoms. Misalignments can occur for a variety of reasons, including injury, poor posture, and aging.
Injuries
Injuries, particularly those resulting from accidents or sports activities, can lead to spine misalignments. The sudden impact or force exerted during these incidents can disrupt the natural alignment of the vertebrae in the spine. For instance, a car accident can cause a 'whiplash' injury, where the forceful, rapid movement of the neck and head can lead to misalignment and subsequently cause pain. Similarly, repeated strain or overuse injuries from sports or certain physical activities can lead to uneven wear and tear on the spine, causing it to become misaligned over time. These misalignments often result in significant discomfort, and if left untreated, they can lead to chronic back pain.
Poor Posture
Poor posture is another significant contributor to spinal misalignments. When we consistently hold our bodies in positions that distort the natural curve of the spine, we exert undue stress on its structures. For instance, slouching or hunching over a computer screen can lead to an imbalance in the distribution of body weight, forcing the spine to compensate and gradually shift from its natural alignment. Also, sitting for extended periods without adequate back support can strain spinal disks. Over time, these poor postural habits can cause structural changes in the vertebrae, leading to misalignment, pain, and decreased mobility. Understanding and correcting these habits is essential for maintaining a healthy, well-aligned spine.
Aging
Aging is another critical factor contributing to spinal misalignment. As we age, our bodies naturally undergo wear and tear, and the spine is no exception. The intervertebral discs, which serve as cushions between the vertebrae, begin to lose moisture and shrink with age, a condition known as disc degeneration. This process can lead to a decreased ability to absorb shock and may cause the spine to lose its natural alignment. Moreover, the ligaments that hold the spine together can become stiff and inflexible over time, making the spine more susceptible to misalignment.
Mid-life is a crucial period for these changes. Often, the physical demands of life—work, exercise, child-rearing, household chores—peak during our middle years. These increased activities can accelerate the natural wear and tear process, leading to spinal misalignments. Osteoarthritis, a common condition in middle-aged individuals, can also cause changes in the spine. It occurs when the protective cartilage on the ends of your bones wears down, which can affect the joints in the spine, leading to misalignment and pain.
Therefore, it's critical to incorporate spine-friendly habits and regular chiropractic care into your routine as you age to help maintain spinal health and alignment.
What makes Chiropractic BioPhysics® unique for treating back pain?
Chiropractic BioPhysics® is a specialized form of chiropractic care that focuses on correcting the misalignments in the spine through a comprehensive approach. CBP practitioners go beyond traditional chiropractic techniques by utilizing advanced technologies and exercises to target the root cause of the problem. They assess the patient's overall health and look at how the spine interacts with the rest of the body to create a personalized treatment plan.
One of the key components of CBP is spinal traction, which is a method of gently stretching the spine to correct misalignments. This technique can help to decompress the discs and relieve pressure on the nerves. CBP practitioners may also use exercises and other therapies to strengthen the muscles and promote healthy alignment of the spine. Extensive research shows that CBP can be a highly effective treatment option for back pain.
In addition to treating back pain, CBP can also improve overall health and well-being. By promoting healthy spinal alignment, CBP can relieve pressure on the nerves and improve communication between the brain and the rest of the body. This can lead to better posture, increased mobility, and improved function of the organs and tissues throughout the body.
Chiropractic BioPhysics® – Backed By Research
The robust research background of Chiropractic BioPhysics® (CBP) reinforces its effectiveness by providing evidence-based methods for treating spinal misalignments. With over 240 peer-reviewed research papers published, CBP is one of the most scientifically validated techniques in the field of chiropractic care. This extensive body of research not only reinforces the credibility of CBP but also ensures that the treatments are safe, effective, and tailored to the individual needs of every patient. By continuously integrating new research findings into their practice, CBP practitioners can offer the latest proven techniques to their patients, delivering improved outcomes and enhanced quality of life. This commitment to research and evidence-based practice sets CBP apart in the world of chiropractic care, making it a preferred choice for many seeking relief from back pain and other spine-related conditions.
Effective Back Pain Treatment Through Chiropractic BioPhysics® – Treatment at the Root
Back pain is a complex problem that requires a comprehensive approach to treatment. While over-the-counter pain medication and other superficial treatments may offer temporary relief, they often fail to address the root cause of the problem. Chiropractic BioPhysics® is a highly effective form of treatment that targets the underlying misalignments in the spine that cause back pain. By taking a personalized approach to patient care and utilizing advanced technologies and exercises, CBP practitioners can help patients achieve long-term relief from back pain and improve their overall health and well-being. If you are struggling with back pain, consider visiting a CBP-certified doctor to see if this revolutionary form of treatment is right for you.
Share This Story: